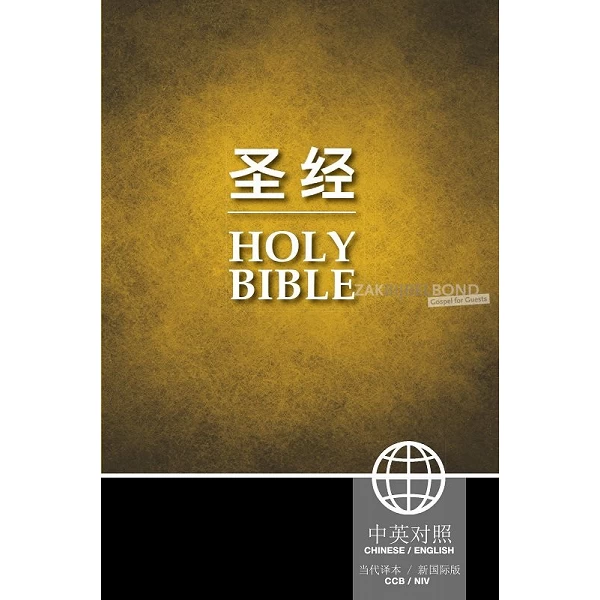 Chinese-English Bible
Chinese-English Bible CBB/NIV

Save payment options.

Fast delivery!

Satisfaction guaranteed (14 days on sight, audio Bibles even 30 days on sight)
CHINESE-ENGLISH BIBLE
Bilingual Bible Chinese-English
Diglot Bible in the languages Chinese and English, using the modern Bible translations Contemporary Chinese Bible (CBB) and New International Version (NIV). Large sized paperback. This publication is written in Simplified Chinese script, making this Bible an excellent choice for people from the Chinese mainland, where Mandarin is an important oral language. More Chinese oral languages use the simplified Chinese script. Eventhough they cannot understand eachother while talking, they write the same characters, so they can read what the other one has written. This is because the characters represent a meaning, rather than a pronounciation. 
This bilingual Bible has several extra's. See the details here below.
Data sheet
Language

Chinese (simplified)

Language

English

Kind

Full Bible (OT & NT)

Title

Chinees-Engelse ParallelBijbel

Name of Bible translation

New International Version (NIV)

Cover type

Paperback

Bible translation type

Modern Bible translation

Type

Printed matter (paper)

Name of Bible translation

Chinese Contemporary Bible (CBB)

Special edition

Parallel Bible

Binding method

Perfect bound (gelijmd)

Size type

Large size

Height (cm)

23

Width (cm)

15

Thickness (cm)

4

Colour

Mixed

Weight (kg)

1,218

Number of pages

1872

Footnotes

Yes

Font size indication

8,5

Overview biblical units of measurement

Yes (weights & measurements)

Maps

Yes (monochrome)
Customers who bought this product also bought:

10 other products in the same category: