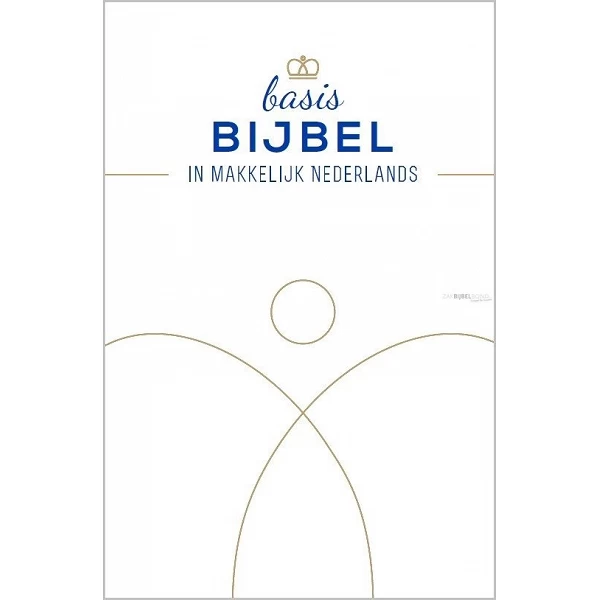 BASISBIJBEL - Hardcover
Ordered and paid before 15:00 CET? Shipped same working day!
BASISBIJBEL - The Bible in easy Dutch - Hardcover
BasisBijbel - The Bible in easy Dutch
Dutch Bible in contemporary Bible translation
Medium sized with hard cover
The BasisBible is a very easy to understand Bible translation. It uses short sentences and understandable words like 'tent' instead of 'tabernacle'.
Data sheet
Language

Dutch

Kind

Full Bible (OT & NT)

Special edition

SchoolBijbel

Name of Bible translation

BasisBijbel (BB)

Bible translation type

Easy to read Bible translation

Cover type

Hardcover

Size type

Medium size

Height (cm)

18

Width (cm)

12

Thickness (cm)

2,9

Colour

White & blue

Reading ribbon(s)

Yes (1 blue)

Font size indication

8

Number of pages

1394

Weight (kg)

0,513

European Article Number (EAN)

9789081524179
Customers who bought this product also bought:
10 other products in the same category:
Reviews
By
Oscar D.
on 03 Dec. 2018 (
BASISBIJBEL - Hardcover
) :
Top top . Alleen de oude statenbijbel is beterder
Duidelijk leesbaar. Verhelderend soms vind ik de interpretatie iets te vrij. Tja parafrase wat wil je anders. Voor mij leest deze bijbel het best dus naast de statenbijbel als uitleg voir moeilijke teksten. Verder volgt deze bijbel in het nieuwe testament de Textus Receptus is de grondtekst van de statenbijbel vrij getrouw wat een verschil met Het boek, groot nieuws of bijbel in gewone taal. DIe volgen allemaal de tekstkritiek tekst van nestle ed.ook wel weer logische de Bassisbijbel is op de statenbijbel gebaseerd
By
Gast R.
on 06 Nov. 2018 (
BASISBIJBEL - Hardcover
) :
Goede vertaling
In onze gemeente in Wassenaar liggen heel veel BasisBijbels op de boekentafel. De man achter de boeken tafel zegt dat hij het zo'n goede vertaling vindt.
-M-
By
Anja D.
on 29 Aug. 2017 (
BASISBIJBEL - Hardcover
) :
Dank voor de BasisBijbel in druk!
Ik vergelijk regelmatig Bijbelteksten in verschillende vertalingen en ik vind de BasisBijbel heel erg getrouw naast de NBG51 of de Statenvertaling. Dat maakt het een ideale vertaling om moeilijkere teksten te begrijpen. Ik vind de BasisBijbel echt een uitkomst!